If you're moving to vibrant San Francisco, stepping onto the real estate scene here is an exciting venture, and it's important to determine which type of residence is the best fit. San Francisco has plenty to offer in terms of home types and design styles, so it can be easy to become overwhelmed. Thankfully, this guide to San Francisco property types can help you figure out the ideal home for you.
The team at Eric Altree Compass is happy to answer any questions and be your guide to this incredible city. They can help you narrow down your wishlist so you can find a home that checks all the boxes. The right home could be waiting right now. Contact the Marin County San Francisco real estate experts at
Eric Altree
to help guide you through your home purchase process.
A little about San Francisco real estate
The city of San Francisco offers a plethora of real estate types. Whether you want estates with rolling hills or skyscrapers with bay views, it's all possible. Thanks to its variety and attractive living conditions, San Francisco has become a popular destination for all types of sun-seekers and is the perfect area for growing families, young professionals, and retirees to settle into.
It's important to keep in mind that the many amenities and attractive living options of San Francisco don't come cheap. But don't let that scare you. There are lots of smaller home types — such as condos and apartments — that are friendlier on the wallet for purchase or rent.
You must consider your needs, preferences, and budget when finding the right property type among Marin County real estate. Once you're clear on these things, finding the perfect San Francisco home is entirely doable, and navigating the real estate market is much easier.
San Francisco property types
Single-family home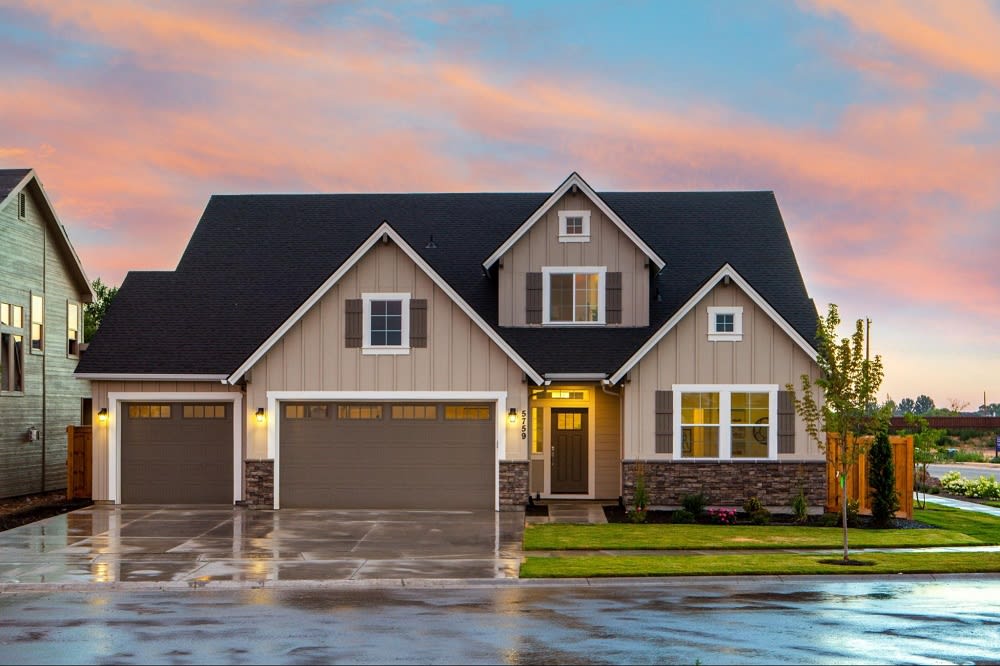 Photo courtesy of Unsplash
Single-family homes in San Francisco are built on a single lot and don't have any shared walls with other properties. There may be a garage, either attached or detached, and they often have a yard.
Pros
Extra privacy, especially when compared to other home types

Private front or back yards, and sometimes both, to allow for more living space and flexibility

More freedom of expression and design choices

More variety in home style

More reliable resale value than other home types
Cons
More maintenance responsibility for both the interior and exterior
All maintenance and repair costs fall on the homeowner
More expensive to purchase
This property type is for you if:


You prioritize privacy in your home
You don't mind spending a bit extra for your dream home
You want a quieter area to live
You want the freedom to express yourself and your style in your home
You want a private yard
You're ready to handle the regular maintenance and repairs involved in homeownership.
Condominium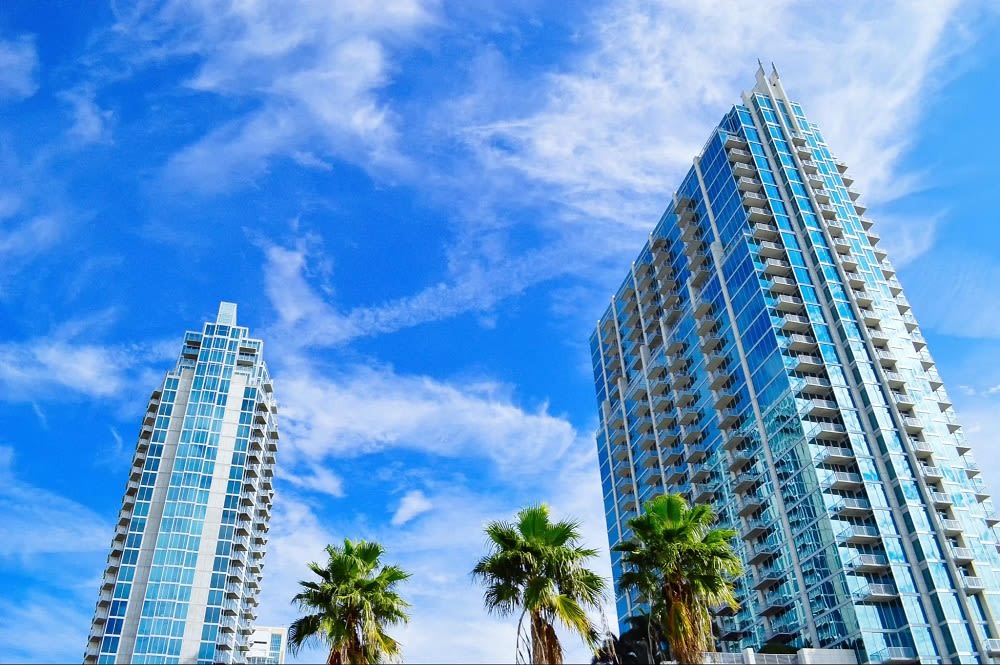 Photo courtesy of Unsplash
A condominium is a single unit attached to a larger building or community. It's similar to apartment living, but instead of signing a rental agreement and lease like an apartment requires, a condo tends to be owned rather than rented.
These types of homes often share a wall or two with another unit. They might include a homeowner's association (HOA) fee, which requires monthly or yearly dues from residents.
They are popular options in highly dense, urban areas and tend to be close to restaurants, shops, and exciting city activities.
Pros
Minimal responsibility for the homeowner to contribute to the lawn or home maintenance

Extra amenities such as gyms, pools, theaters, and lounge areas

Affordable options for anyone who can't make a single-family home fit in their budget

Smaller area to furnish

Close to city conveniences and attractions
Cons
HOA's prioritize uniformity, so they may limit remodeling projects or self-expression to an extreme

Not as much privacy due to shared spaces and walls with neighbors

Are often in louder areas of town

Extra amenities may come with additional costs every month
This property type is for you if:
You want to live closer to the city

You don't mind sacrificing some privacy for convenience

You want to be closer to your neighbors

You're looking for some convenient amenities

You want to own property but don't want to spend top dollar for it

You're looking for a small place to call home

You don't want to deal with home maintenance tasks or yard upkeep
Townhome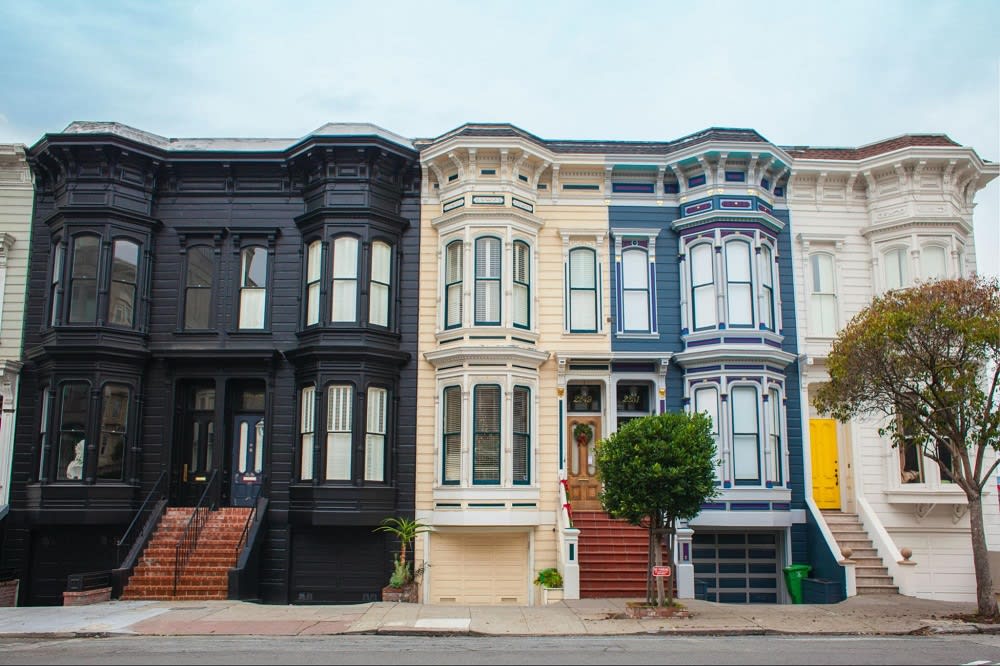 Photo courtesy of Unsplash
A townhome is a blend between a single-family home and a condo. They tend to have multiple floors with some extra privacy and a yard or a rooftop deck, but they often share a wall or two with another townhome. Townhouses are usually a bit smaller than single-family homes but larger than most condos.
Pros
More privacy than a condo at an affordable price

Some townhomes come with joint maintenance agreements to make lawn and home upkeep easier

Affordable prices when compared to single-family homes
Cons
It's rare to find extra amenities like a pool or gym

Less privacy than a single-family home
This property type is for you if:
You're not ready for a single-family home but want something a little bigger than a condo

You want a small yard but not anything overwhelming

You don't mind sacrificing a little bit of privacy

You don't need a community pool, gym, or other extra amenities
San Francisco home styles
When you explore Marin County San Francisco real estate, you'll quickly see various architectural styles. While single-family homes are the most renowned for exercising freedom of expression with styles and colors, you'll see a variety in home styles when it comes to townhouses and condos as well.
The truth is, San Francisco wouldn't be the city it is today if it didn't have these fantastic stylized homes with decorative accents and attractive colors. There's a lot of history and historic landmarks and styles in San Francisco residences, but there is also a vast selection of modern homes that have emerged as well. Here are four common architectural styles in residential properties around the city.
1. Victorian sticks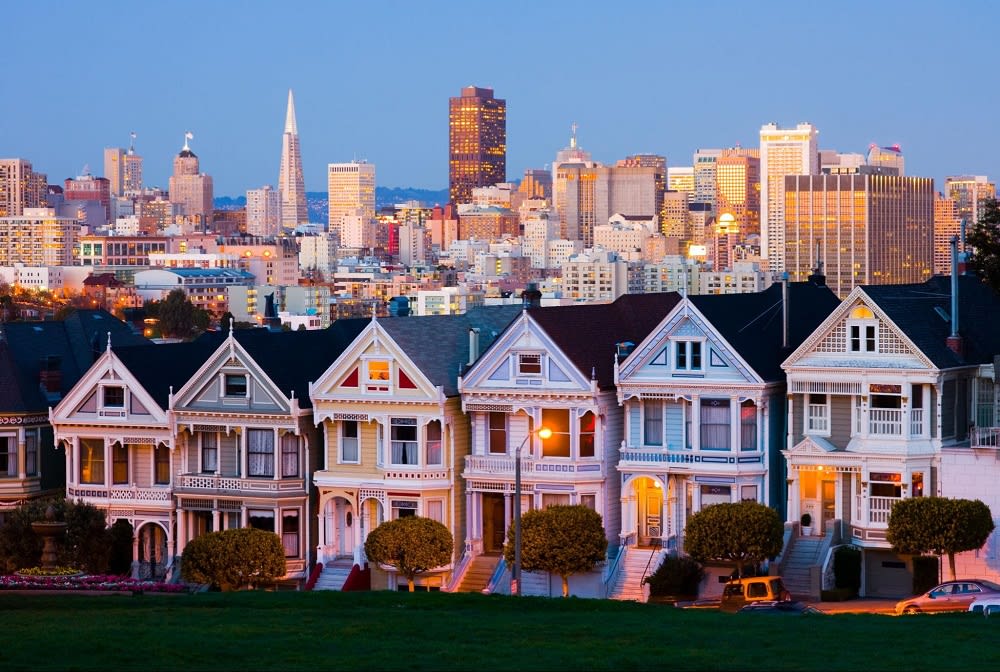 Photo courtesy of Shutterstock
San Francisco is known for having the most concentrated area of stick-style homes worldwide. While the style was unpopular at first — and largely dismissed for being too bizarre and unusual — it's now considered an attractive, creative, interesting architectural movement with some innovative pre-Civil War characteristics.
It features a charming blend of designs, including both Gothic and Victorian styles. Most Victorian stick homes feature long, thin pieces of wood — hence the name "stick" — usually applied to corners. In this style, you'll often see fancy gables, porches, ornate roofs, and projecting bays. They often have a slender, ghostly appearance.
2. Gothic Revival
This unique style first became popular in England in the mid-1700s. Gothic Revival took the U.S. by storm a century later and is known for its lovely masonry construction, brick patterns, and dramatic stone carvings.
Birds and gargoyles are all part of the Gothic Revival's charm, and most historic homes with this style draw their inspiration from medieval times and lean into the drama. It's normal to see an offshoot of this style called Carpenter Gothic, where more wood is included rather than stone.
3. Queen Anne
This style has a deceiving name since Queen Anne herself had nothing to do with its inception. Instead, the Queen Anne design comes from other Victorian styles though it includes some updated, modern features.
These types of homes tend to have towers, porches, gable roofs facing the street, and some beautiful overhanging eaves. They first became popular around the 1880s and are still seen in San Francisco today.
4. Edwardian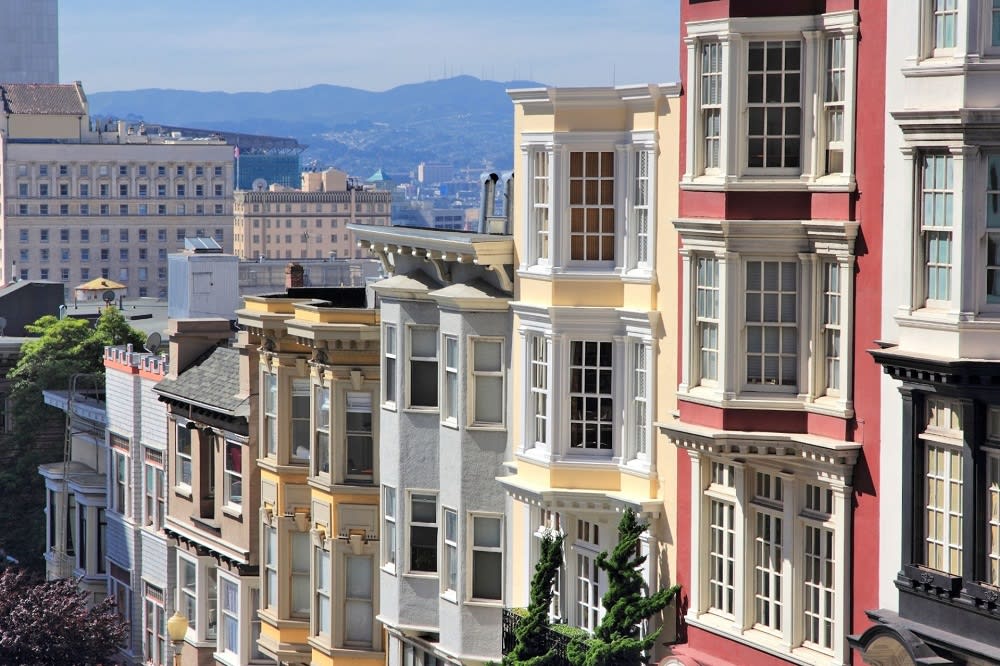 Photo courtesy of Shutterstock
This style was inspired by the reign of King Edward VII and first became popular in the 1900s. Many San Francisco homes were destroyed in a devastating earthquake in 1906, so many homes built today feature this Edwardian style.
The style blends Victorian, Georgian, and Art Nouveau styles featuring domed rooftops, simplistic details, and light colors. It's often considered a more relaxed, simple version of Victorian architecture.
Eric Altree Compass is here to help
If you're looking to dip your toes in Marin County San Francisco real estate and find a home to call your own, reach out to
Eric Altree
for expert guidance and insider knowledge you can count on. This is an excellent
team
with a wealth of skills and connections to help you find the home you've been dreaming of.
*Header photo courtesy of Shutterstock